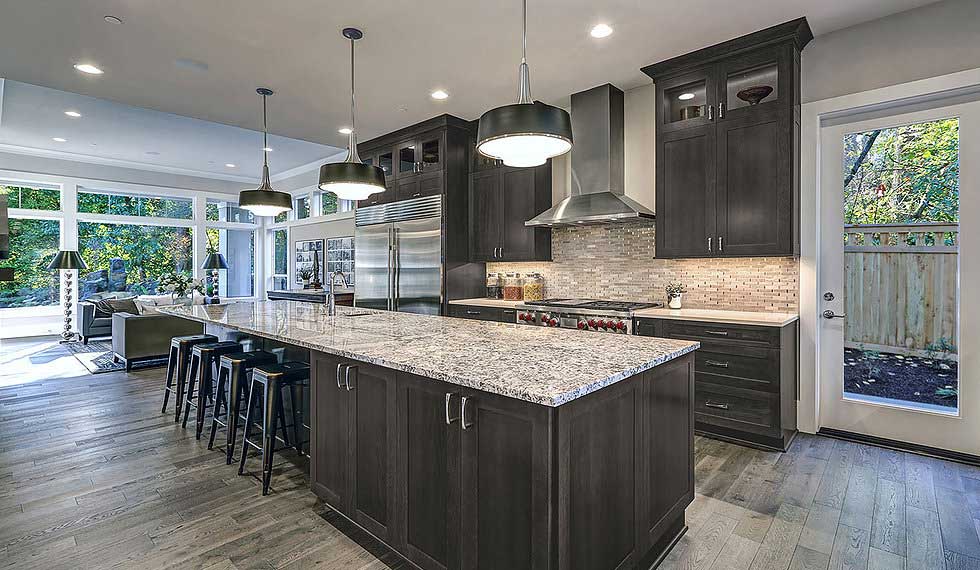 If you're looking to remodel your kitchen, you will definitely be shopping around for some kitchen cabinets. It can be a little overwhelming when you start looking at all the cabinet options available out there. Not worry, there's actually an easy way to understand the types of kitchen cabinets available for you. We prepare a guideline for types of kitchen cabinets for you! You can find all answers to your questions. Also, you can write us for your questions!
Different Types of Kitchen Cabinets
Before getting into the different nuances of cabinetry, like materials, colors, installation, and those other variations, we need to start with the basics. In reality there are three different types of cabinets out there you can purchase: custom cabinets, semi-custom cabinets, and stock kitchen cabinets.
Custom Kitchen Cabinets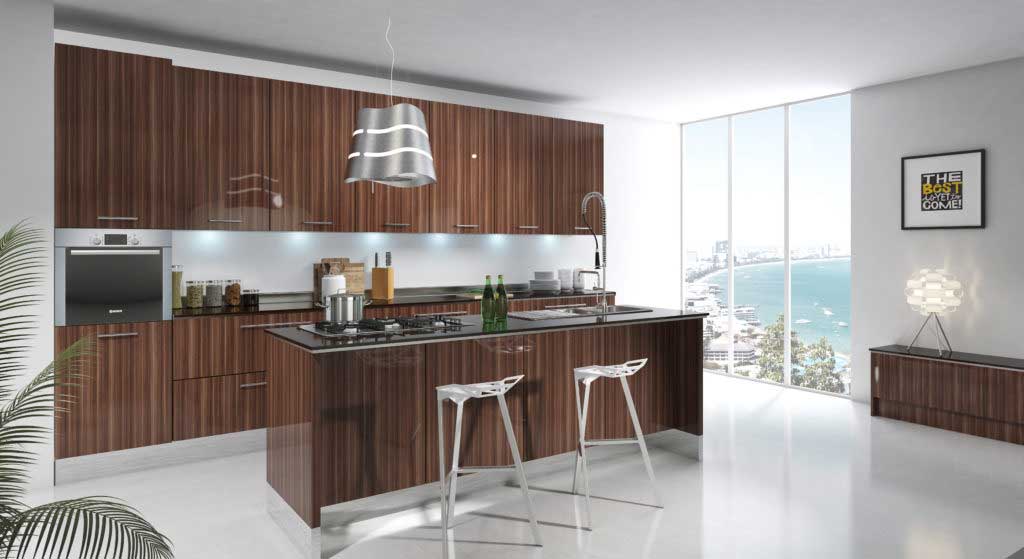 These cabinets are exactly what they sound like. A cabinet maker will take your cabinetry needs, kitchen dimensions, and style / color requirements and build a custom set of cabinets for your kitchen from the wood you decide on.
These types of kitchen cabinets are built to your custom specifications and needs. The benefit of going with custom cabinets is that you can create exactly the kitchen you envisioned when you decided to remodel your kitchen.
Custom cabinets are the most expensive cabinets you can buy. You get to choose the width, depth, height, style, and finishes that you want. These will normally take a few weeks up to a few months to complete, depending on the complexity of the work. Custom cabinets can be built right on site, but will usually have some parts manufactured off site.
Cost of Custom Kitchen Cabinets
You can expect to pay anywhere between $500 and $1200 per linear foot for custom cabinetry.
Semi-custom Kitchen Cabinets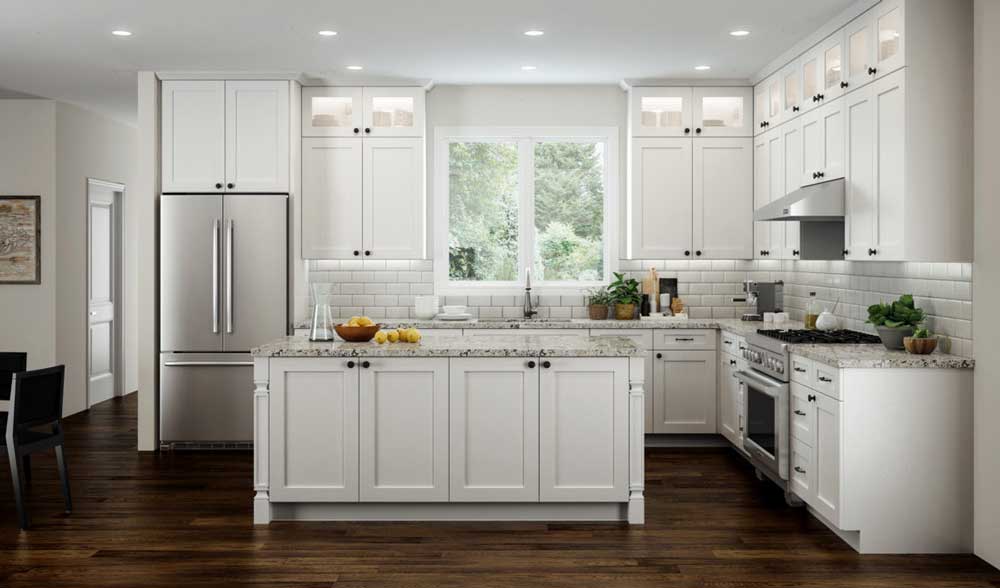 Semi-custom cabinets are stock cabinets that have some different detailing options available to help make them feel a little more customized than the regular stock cabinets. Wit semi-custom cabinets there are certain aspects and dimensions that you can customize.
You can customize the door fronts and cabinet drawers. You can also customize the depths of each cabinet while maintaining the standard widths of the cabinets. Usually, the cabinet manufacturer will have different depths that customers can choose from to give your cabinet a more custom feel.
With semi-custom cabinets you will also have the option to provide a limited input on the overall design. Often, they will have different design customization features you can choose from to best customize your cabinets without having a full custom build done. The good news is that semi-custom cabinets are much cheaper than custom cabinets, but you still get the option to add some features that you want.
Cost of Semi-Custom Cabinets
Semi-custom cabinets usually run from $100 – $600 per linear foot.
Stock Kitchen Cabinets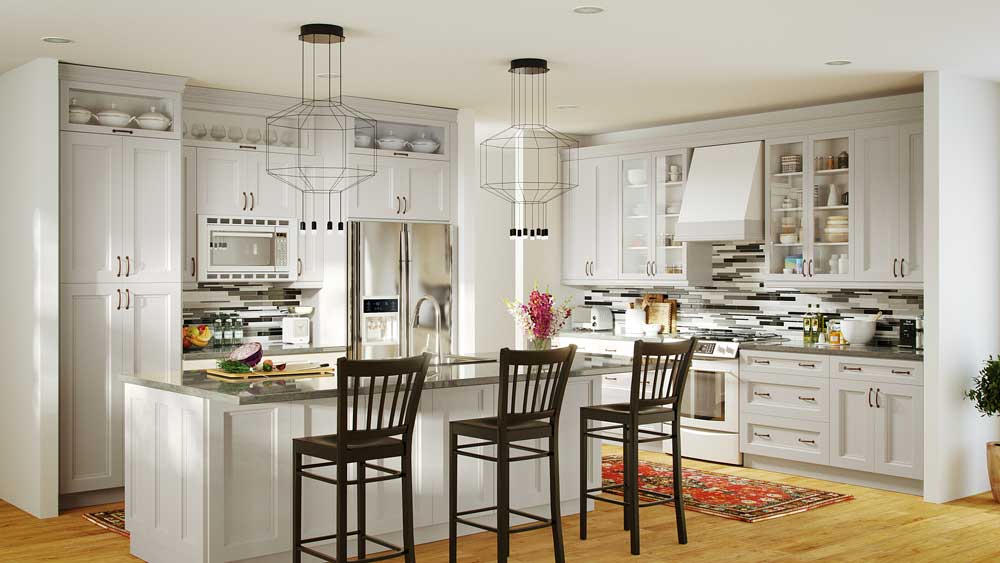 Stock cabinets are premade, which means they are mass-produced by the cabinet manufacturer and ready to be installed once they are ordered. You are able to choose the width of the cabinets depending on your need, but the depth dimensions are standard at 12" for wall cabinets and 24" for base cabinets.
Stock cabinets are extremely popular because of the price. Even though the selection is somewhat limited, there are plenty of different color and style options to give you an affordable option over semi-custom and custom cabinetry. Depending on the manufacturer, there are also different options for the type of wood the cabinets are made from.
Another way to get stock cabinets for cheap is if you live close enough to one of the manufacturing centers. They will often open up their doors to customers who can buy directly from the factory, from whatever selection is on hand. Often, this can mean cutting the cost almost in half if you're not overly picky about the style you want. This is a great option if you are on a budget, or for people with rental properties who want to do a remodel on a tight budget.
Cost of Stock Cabinets
Stock cabinets are the cheapest option at around $60 to $200 per linear foot.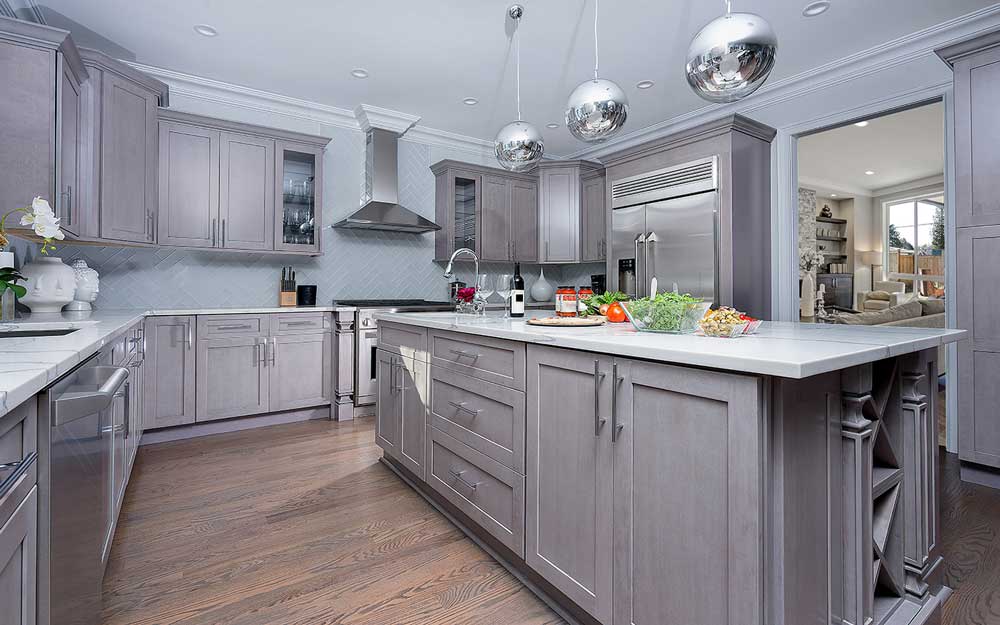 Popular Styles of Kitchen Cabinets
When it comes to cabinetry, there are some popular styles of cabinets that make up the majority of cabinet styles.
• Shaker Kitchen Cabinets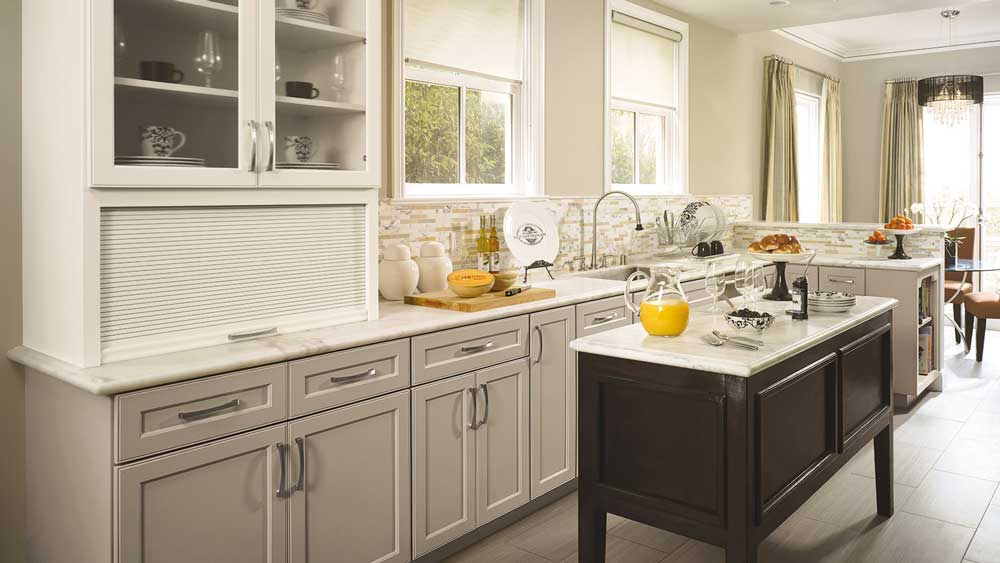 Shaker cabinets are probably the most popular cabinet style. These are your standard rectangular designed cabinets with a recessed flat center panel in the middle. Usually, these are framed out with some sort of rail type of trim. Most shaker cabinets are made with maple, cherry, hickory, and oak.
• Beadboard Kitchen Cabinets
Beadboard panel cabinets are made from vertical rows of planks with some sort of ride in between the planks which are the beads. These are found in people who like the rustic / farmhouse style. These are traditionally all white.
• Inset Kitchen Cabinets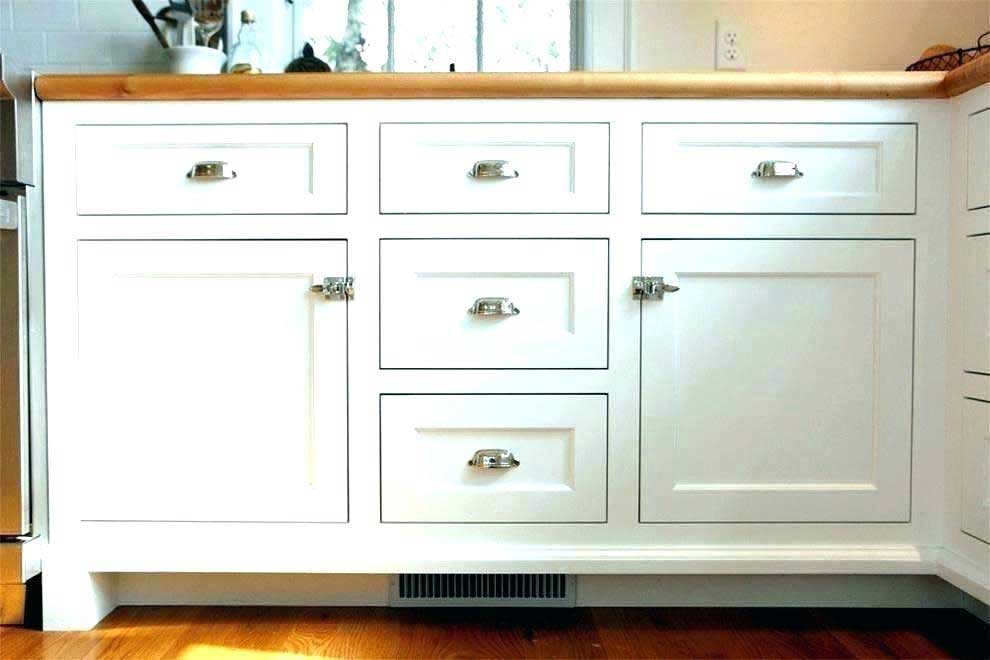 Inset cabinets are similar to shaker style cabinets with an inset style door that is inside the door frame. These can be difficult and time consuming to build, which is why you see the inset style more with custom and semi-custom design options.
• Distressed
For anyone looking to have that antique or classic style kitchen, the distressed cabinet is exactly what you are looking for. You can get a distressed style from almost every cabinet manufacturer, and distressed cabinets can help give your kitchen a custom look without paying for custom cabinetry.
• Flat Panel
These are the most basic of cabinet designs. The flat panel cabinet is simplistic and functional. It has a universal appeal and can work with whatever style kitchen you ultimately decide on.
• Thermofoil
Thermofoil cabinets are basically flat panel cabinets that have a vinyl film applied to the outside of the cabinet material. Depending on the way it is applied, it is possible to get a wood grain look with the thermofoil wrap.
Wood Cabinets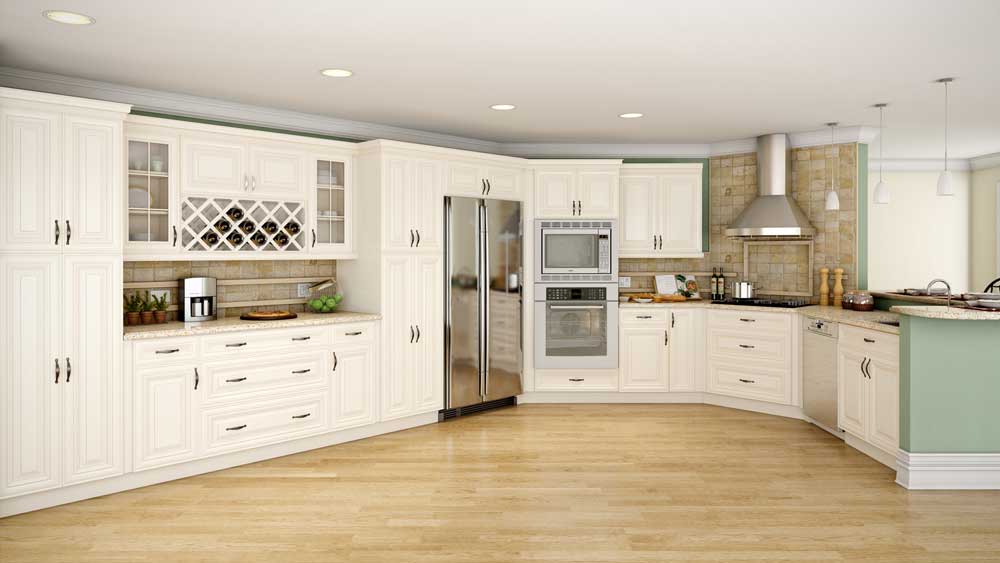 All cabinets are made of wood in one form or another. Whether a real hardwood or a laminated plywood, you can't get cabinets that aren't made from wood materials. The type of wood can increase the overall cost and look of your cabinets. The beauty of wood is that it can be stained, finished, or painted to meet whatever kitchen goals you have in your mind.
Red Oak
This is very strong and durable wood that is relatively inexpensive. The beauty of oak is that the grain patterns are very visible and oak stains well. Red oak is used in most traditional cabinets.
White Oak
White oak is used quite a bit in custom cabinetry because of the strength and durability of the wood. The grain on white oak isn't as pronounced as red oak and is often quarter-sawn for custom cabinets. This is a popular wood for the arts and craft style.
Pine
Pine is a very lightweight wood and holds stain well. Pine tends to have a lot of knots which works well with country style kitchen cabinets.
Ash
Ash is a similar wood to oak but with a lighter color. Most ash cabinets are used with a clear finish because of the straight grain texture of the wood.
Cherry
Cherry wood is used in traditional kitchen designs because the wood is very sturdy and durable. It can be stained or painted to fit whatever look you might want.
Maple
Maple is a very popular wood in both custom and semi-custom cabinets. Even though it can be painted, the color of the wood works best with a clear or natural finish to accentuate the natural properties of the wood.
Installation of Kitchen Cabinets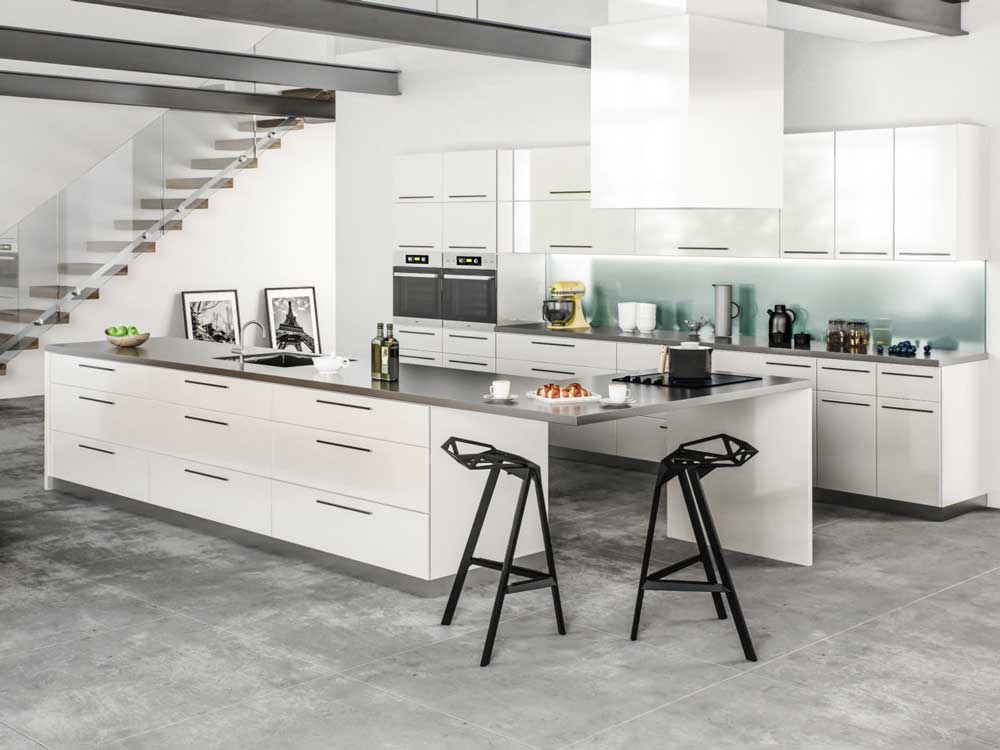 Installation of cabinetry is a fairly easy process that needs to be done carefully. The cabinets are hung on the studs in the walls, level and flush with one another. Getting them level can be the most difficult part of the process since you are trying to line up each individual cabinet. You can install cabinets on your own, but it is a job best handled by a professional. The beauty of custom cabinets is that installation is usually part of the cost.