Fabuwood Cabinets
Kitchen being the life of the households vital importance and hence needs special attention. Fabuwood cabinets paired with elegant tiles and other kitchen accessories brings color to the heart and soul of the home.
Fabuwood is an economic yet stylish cabinet designing option which holds class in itself. Usually installed as kitchen cabinets gives it a chic look with comfort, quality, and elegance. Fabuwood now offers Q12 quality standard for kitchen cabinets with signature quality and design uniformity. Q12 comprises of twelve elements which ensure strength, durability, and reliability of the installed cabinets. Fabuwood cabinets are available in various designs from Allure to Value series. The skilled craftsmanship, outstanding styling with five years warranty in economical range make it a perfect choice for your kitchen cabinetry.

Fabuwood Kitchen Cabinets
Fabuwood Kitchen Cabinetry is all plywood, framed construction with the included upgrade and excellent finishing. It is available with five years warranty. The product quality is outstanding and has many satisfied customers making it a reliable kitchen cabinetry company.
Fabuwood Cabinets Value Series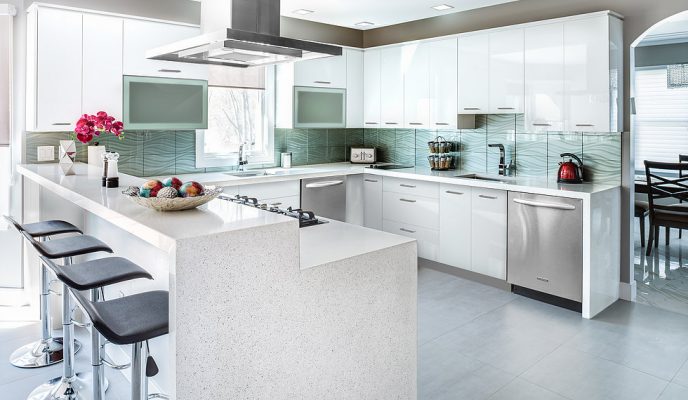 The Fabuwood Value Cabinet Series comes in diverse styles and colors. It delivers with flamboyance as it is an exceptionally affordable option. These kitchens are visually exciting and built strong and durable. Giving a sturdy look to the kitchen, the value series have two types; hallmark and landmark. These kitchens offer extraordinary value for the budget conscious personals with style. These kitchens can be upgraded, or one can customize the look of the kitchen by inserting decorative accessories.
It features the blend of top quality with a refined style to represent true artistry and tradition. This kitchen creates a beautiful ambiance for the financially careful or cautious buyer. The different accessories and modifications can be used to enhance and upgrade to an attractive, elegant and sophisticated residential kitchen. It is available in brandy, chestnut and pecan finishes. These Fabuwood cabinets are easy to assemble by using wood glue and brads.
The landmark series is available in two finishes, brandy and natural. They are an excellent economical choice that does not compromise on quality. It creates a relaxed and casual environment. It is constructed with traditional overlay doors. Veneer raised panel captured into solid wood rails and slab drawer fronts. It allows the wood's inherent elegance to shine through and can be used for both homes and multi-unit projects.
Fabuwood Cabinets Allure Series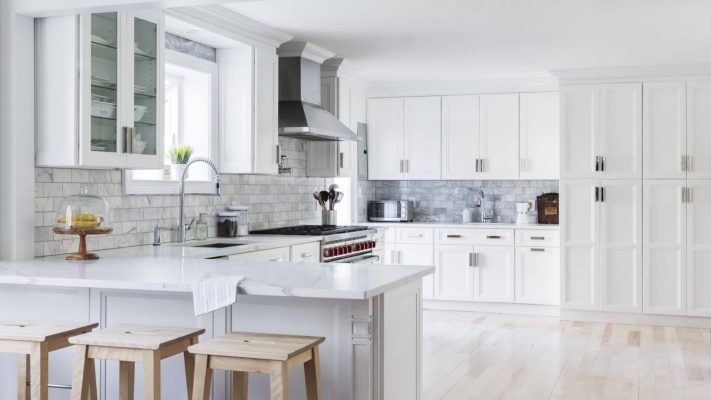 The unique styles of Allure series feature solid birch stiles and rails with MDF center panels. Preferably MDF is the material for painted finishes to avoid or reduce the possibility of shrinkage or cracking. It is available in nexus, galaxy, vista, and onyx.
The luxurious and graceful nexus cabinet series displays recessedling, and it creates the perfect blend of traditional and trendy style. The crisp lines create a classic and clean feel.
The galaxy cabinet series will give a polished look to the kitchen. Due to its smooth finish, it offers simplicity and elegance and creates an impressive minimalistic masterpiece.
It features elaborate detailing and applied moldings. It is a chic and transitional cabinet design that adds warmth and complexity to the kitchen.  The style is versatile and will brighten any home.
Onyx enhances the kitchen's design that radiates between the transitional and classy look. It offers a versatile option that adds originality and interest to the kitchen. It will look equally stylish in modern or classic spaces.
Check Out Fabuwood Catalog
Fabuwood Cabinet Layouts
Fabuwood offers many kitchen stylings whether it's U-shaped, L-shaped, Peninsula style or gallery style. To opt for the right layout with the right space and then embellishing to give modern, traditional or cosmopolitan look involves excellent science. The detail information about the layouts below will be valuable information.
U-Shaped Layout
Ideal for both large and small space kitchens. This layout occupies three walls for counters and cabinets making it a horseshoe-shaped area. It gives the luxury to cook, clean and keep stuff by providing maximum space. It is usually the most efficient kitchen plan since it provides good space and maximum utilization of the area. An island embellished with Fabuwood cabinets can be installed in the middle creating additional working space or sitting area within the kitchen.
L-Shaped Layout
It is best suitable for small and medium space as it is an open floor plan. It gives two walls for cabinet and counter spacing. It can be best utilized by installing the cooking appliances at the shorter wall and sink on the longer wall with the refrigerator at the end of the wall. Island or table can also be installed in such an environment making it more chic and contemporary.
Peninsula Layout
For the dire need of island in the kitchen but lacking space, one can go for peninsula layout. It is similar to Kitchen Island, but one side is connected to the wall. It lets you enjoy all the ease an island offers by giving additional space and countertop storage. For cooking lovers, this peninsula layout provides a work triangle with appliances in close access to you. It is also the best way to separate kitchen with living area and offers an open room concept.
Gallery Layout
Gallery layout offers two-walled cabinet/countertop installed in parallel. The workspace has one way to move. Everything is available close to efficient space utilization. Suitable for small spaces.
Styles of Fabuwood cabinets
It's essential to select the cabinets that enhance the aesthetics one is trying to achieve as they are the most noticeable aspect in the kitchen space. Since installing new kitchen cabinets is a big investment, that's why one should want to get them right the first time. Fabuwood comes in two inspiring and sophisticated cabinetry collections, i.e. Allure Series, Value Series. Each of these collections has a variety of styles and shades which are further modified and transformed with the array of finishes, ornamental accessories, and glazes, etc.